When Albert Einstein was setting up his office at Princeton, one of the staff assisting him asked what supplies he needed. Einstein responded that he needed a desk, a chair, pencils, paper and
"a large wastebasket so I can throw away all of my mistakes".
When it comes to knowledge-based tasks, we mere mortals are bound to make many more mistakes than Einstein. We make mistakes for two reasons:
mistakes due to the complexity of a task &
mistakes due to steps that we decide on our own to omit.
A professional who has done a particular task dozens or even hundreds of times may simply decide that a particular step is of no value and just leave it out. This can lead to poor - and sometimes catastrophic - results.
What is the solution?
According to Atul Gawande: the checklist, of course. Gawande is a surgeon and author of The Checklist Manifesto. I listened to the audio version; I haven't listened to audio books except for long car trips, but what a great way to spend the daily commute.
Gawande writes an accessible, highly interesting and compelling case for the importance of the simple checklist. His theory, which he very effectively argues, is that knowledge-intensive tasks will produce better results by using a checklist. In addition to the checklist, the Manifesto also argues that a review of the checklist by the principals in advance of undertaking the task is crucial.
I am a believer in the power of checklists for small business tasks after reading this book and will utilize checklists much more in my work, as well as encourage the practice in TAB's executive coaching practices.
What I found to be the key: you don't just hammer out a checklist in 15 minutes, toss it out there and get better results.
The checklist has to be simple and clear. Mark Twain once wrote that "I didn't have time to write a short letter so I wrote a long one". The same holds true for checklists: take the time to design a simple and clear checklist for your complex business tasks and you are very likely to see improvement.
Example checklist from the World Health Organization: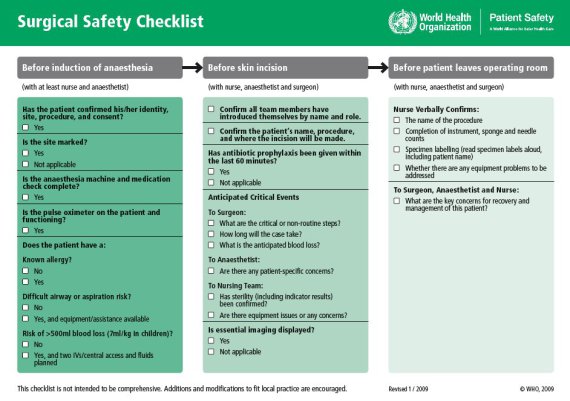 Related articles