Project Management for Small Business V
Many project managers confuse completed projects with successful projects. This confusion is a result of project management training and methodologies that focus primarily on managing the scope, resources, budget and schedule of a project; and place less emphasis on achieving success in the eyes of the customer. Any business owner or executive can point to many examples in which all of the key project parameters were met on a project that flopped. These failures are usually the result of a project manager not spending enough time defining the success criteria for a project.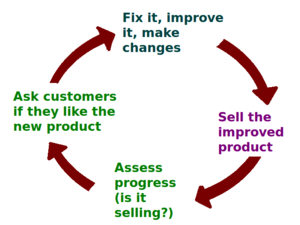 A well planned success criteria should always start with the customer. Ask yourself who is the customer, and what will the customer expect from the project? This customer could be an external customer, an internal customer, or even the project stakeholder. Once the customer is identified, ask them what they want. For external customers, this can be difficult; especially if you're dealing with consumers. When you're dealing with consumers, find out who specifically to ask, and find out if their feedback is representative of all of your consumers. If you need to, use techniques such as focus groups to ascertain representative input.
Be as specific as possible when you write down your success criteria. Also, make the criteria as objective as possible; then show the success criteria to your customer or stakeholder. A common mistake inexperienced project managers make is that they are afraid that their customer will object to what they've written. This can lead to "play it safe" mistakes, where the project manager is purposefully vague. Don't make this mistake! If your customer reviews your success criteria and says "that's not exactly what I had in mind," that's ok. In fact, it's better than okay, it's an opportunity to make your project plan perfect. A customer saying let's try again is much that better than the customer saying you delivered the wrong thing when the project is completed!
Make sure that you have customer alignment up before you begin a project.
An inexperienced project manger might be afraid to voice their opinion when he or she believes that a customer's criteria cannot be achieved. In this situation, not voicing your opinion is a huge mistake. If you don't think a project can be completed, it's better not to do the project at all. When you undertake a project that consists of unrealistic expectations, all that you're doing is wasting time and money.
For Project Tweet, the stakeholder will have to define the success criteria. This is not ideal, but for small business projects, it's not uncommon. For Project Tweet, our success criteria are:
Frequency: Tweet at least 5 times per weekday and at least once on each weekend day.
Followers: Acquire at least 500 followers within 6 months of tweeting.
Service: Within 3 months, at least half of Hummingbird's customers should be following us on Twitter account.
New Business: Acquire at least 3 new customers from Twitter during the first 6 months; and 1 new customer per month thereafter.
Other: Our tweets must strike the right combination between fun and professionalism. If tweets are in conflict, professional should take priority over fun.
Keep one thing in mind when you're defining success criteria: almost no projects achieve their success criteria immediately after the project is completed. As you can see above, your project plan must include time frames in which various success criteria will be achieved. Just as importantly, the project should not be considered complete until all of the success criteria are met. It's important that your schedule, resource commitments, and budget reflect the timeline to achieve the criteria defined by your customer.
Related articles
15 Great Ways Project Management Can Help Your Growing Business (business2community.com)