A few months ago, on a lazy Saturday morning, I was flipping around the TV channels and stumbled across the movie "Moneyball". I had perceived this movie to be on the trite side and really had no previous interest in it. However, I was quickly drawn in. The movie stars Brad Pitt as Oakland A's General Manager (GM) Billy Beane. Beane was a former highly promising baseball prospect who inexplicably never reached his full potential. He ended up exiting the playing field and became a scout. This eventually led to Beane becoming GM of the A's. In the movie, Pitt teamed with Jonah Hill who played the role of Paul DePodesta, who was Beane's right-hand man with the A's. The movie covered the back story of how Beane built the A's and tracked a highly entertaining season where the A's set a record for most consecutive wins by a baseball team.
The movie was well-along by the time I stumbled across it so I was curious about the back story. A few months later, while perusing books at Barnes & Noble, I came across Michael Lewis' Moneyball – the book. What intrigued me about the book was Mark Gerson's book review in the Weekly Standard that read:
"Moneyball is the best business book Lewis has written. It may be the best business book anyone has written."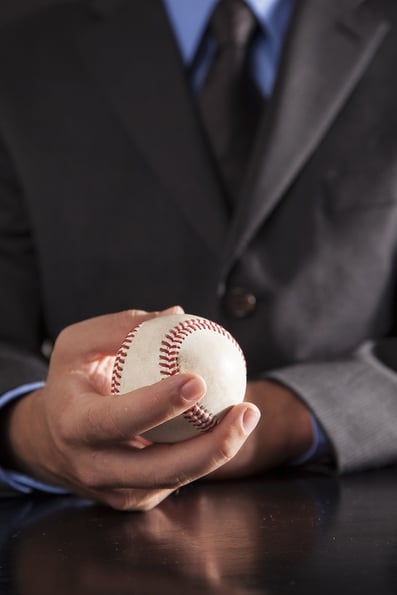 The best business book ever written. Really? That's quite the statement. I am keenly aware that prominent book reviewers choose their words very carefully. Based on wanting to know the full story and the strong reviews of this book, I decided to take Moneyball on a recent trip to Oregon.
Moneyball is a book about transforming an industry. The Oakland A's are a relatively small market team, owned by investors who were not interested in dumping a lot of money into the team. Their situation is completely unlike the New York Yankees or Boston Red Sox who attempt to buy a pennant each year by acquiring the highest paid free agents. Beane's challenge was how to compete with these deep pocket owners with a fraction of their budget.
Baseball – and most professional sports for that matter – has quite a few built-in philosophies that are considered to be and accepted by insiders as truths. This thinking is based on the practices from long-time owners, managers and scouts, developed over many decades. For example, baseball scouts have traditionally sought out high school stars rather than college prospects. A high school star is the "diamond in the rough" that the scout discovers and hopes their team develops into a big league star. Another perceived truth in baseball is that the most valuable relief pitchers are those with the most saves. Given their modest budgets, Beane and DePodesta were forced to look at baseball differently and challenge these "baseball truths".
DePodesta and Beane had begun following an obscure baseball writer named Bill James. He has since become much more prominent but he started a counter-culture baseball newsletter back in the 1970s. James poured over all of the baseball data that he could get his hands on. He started to find that many of the baseball truths were not truths at all. Baseball owners were content to run the business without a great deal of data. James had a passion for the sport, a penchant toward data analysis and a desire to find the truth. As he started to publish new perspectives on baseball truths through his modest newsletter, and he had the data to backup his insights, he started to build a strong following – including Beane and DePodesta.
While DePodestra, a Harvard-educated analyst did the data analysis for the A's based on James' insights, Beane was the decision maker and had the courage to take a radical approach to the A's personnel decisions. Here are just a few of the things that he had the courage to do that experienced baseball "gurus" scoffed at: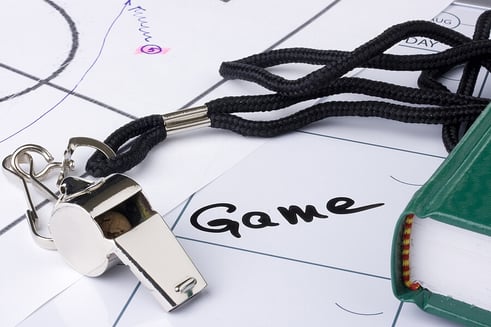 He found that prospects coming out of college were much more reliable than those coming out of high school. While the occasional high school star is discovered, college success is a much better predictor of big league success. The reason is that the college players have more years of experience and play against better competition.

The conventional way to assess a baseball player's skill is fielding and batting average. Based on their data insights, Beane found that slugging percentage and on-base percentage are much better indicators of a player's value. Prior to Beane, teams placed very little value on walks. Beane started to target players that could get on base anyway they could, and did not target the home run hitters. Players who walked a lot became valued by the A's.
Stolen bases are highly valued in baseball. Yet Beane found that a high rate of stolen basis did not correlate with a high winning percentage. The A's would end up stealing very few bases.
For relief pitchers, those with the most saves are considered the most valuable. However, Beane found that not all saves are created equal. Some relief pitchers build up the save count by coming in and getting a single out or two, with no players on base. The most valuable relief pitchers are those that save games when they are brought in with runners already on base, and consistently retain the win for their team.
As a result of these insights, the A's started to select obscure players that other teams placed little value on. The result was that the A's received the players that they wanted at below market price. The same goes with their pitchers. While the competition was paying top dollar for big name players with stats traditionally valued, the A's used analytics to find the bargains.
Michael Lewis also pointed out in the book that the person in a baseball organization with the most influence is the manager. In baseball, managers not only have complete influence over what happens on the field, they also have significant input into personnel decisions. Lewis asked what other industry gives "a middle manager" so much power? Beane and the A's changed this as well. Despite having a high-profile manager in Art Howe, Howe had only a fraction of the power normally afforded a baseball manager. For example, he would have hell to pay if he decided to have a player attempt a stolen base (remember: not valuable) and the player was tagged out.
Clearly Beane brought some radically thinking to baseball. If he were the business guru that Mark Gerson seemed to imply, he would also need great results. As it turns out, his results were pretty darn impressive. For example, in the 2006 baseball season, the A's ranked 24th of 30 major league teams in player salaries but had the 5th-best regular-season record. The A's reached the playoffs in four consecutive years from 2000 through 2003, losing in the American League Division Series each year. In 2002, the A's became the first team in the 100 plus years of American League baseball to win 20 consecutive games. This 20 game winning streak was chronicled in the movie.
Now, back to "best business book anyone has written"? That's very subjective. However, what it is, is a fascinating book about the how one man changed a long-established industry saddled with very insular thinking. Rather than accept the culture and decision making process that has been in place for years and years, Beane studied the data and realized this established thinking was flawed. Beane's approach took tremendous courage. The easier path would have been for Beane to make decisions that the most respected leaders in the business would have made. Beane had the initiative to look at his industry in a completely revolutionary way, and the courage to make the changes based on his insights. While trailblazers have done this in other industries, in the case of Beane and baseball, it worked. He was able to run a successful business at a fraction of the cost of the other competitors. In this way, what he achieved was truly amazing.
While it's hard to argue that this is the best business book ever, it certainly is a great read that provides insights about how business leaders, especially those in long-established industries, should ensure they are looking at their industry analytically and challenging the long-held assumptions about how to lead their companies. Lewis was able to get inside this organization and provide a very detailed account of the process and decisions that Beane and DePodesta used to transform an industry. And for Lewis to explain this in a page-turning book with the drama of a 20-game winning streak, I would agree that this is an excellent business book.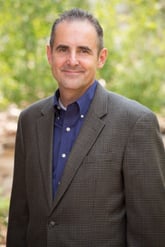 As Vice President of The Alternative Board, Dave is responsible for executive oversight of all Information Technology, Marketing and Member Management activities. In this role, Dave continually seeks ways to marry technology with process to improve TAB brand awareness. Ultimately, Dave hopes to support bringing the TAB value proposition to significantly greater numbers of business owners, consultants and transitioning executives.
Dave has over 20 years of consulting, product development and technology experience across many different industries including telecommunications, hospitality, healthcare and financial services. Most recently, he was Chief Information Officer of ResortQuest International, a vacation property management and real estate company. Prior to that, Dave spent five years in business consulting with BearingPoint, leading a variety of consulting and Information Technology programs for various Fortune 500 companies.