Ready to hire your first sales rep? Hiring can be tricky, and salespeople (the good ones at least) are smooth talkers. If you do find that perfect rep, you need to make sure you can sign and keep him or her as well.
Objective data shows that less than 10% of sales hires ever produce an ROI for their employer. This starts because most employers don't know how to source, interview, land, and on-board new sales hires. - Joe Zente, CEO of The Alternative Board, Austin, TX
Here are five key things that should all be considered as you start sourcing talent: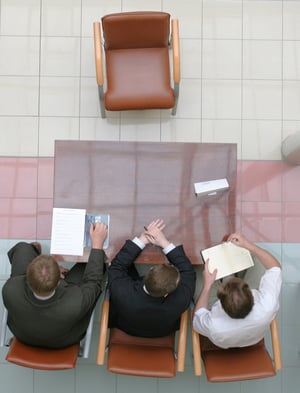 1 - Strengths and Experience
Different sales people have different skills and strengths, and, of course, every candidate is going to have different experiences. Start by drafting a detailed job description so you know exactly what you need[1].
Will this person do more cold calling or in-person sales?
Does your business focus on inside or outside sales?
How important is developing customer relationships?
Are you looking for someone who has worked with a startup before?
Are you looking for someone with experience in a similar industry?
Do you need someone who is self-reliant?
Does your rep need an established book of business?
The "right" answers, of course, depend on your industry, your niche, and your audience, but be open to what a candidate has to say. Maybe you think you're looking for someone with startup or industry-specific experience, but the perfect candidate turns out to be someone with neither — but who really believes in your brand.
Draft the details, but make some mental notes about priorities. Which features are non-negotiable, and which might be compromised to find the best candidate?
2 - Sales Compensation Structures
There are several options for compensation: straight salary, annual base salary plus commission, commission only (with the option to draw from commissions in advance), and straight commission.
Straight Salary — The security of a straight salary can communicate trust, and ease a sales rep's mind (especially through the initial learning curve), but there is less incentive to perform.
Annual Base Salary plus Commission —This ensures that they will always receive a paycheck, but also that they can look forward to being rewarded for their sales efforts.
Commission Only (with the option to draw) - This is similar to a straight commission structure, but with the option to 'draw' a small loan from advanced commissions.
Straight Commission —The very best salespeople prefer a commission-only structure, as this often nets them the highest revenue. Employers often find this enticing as they pay based purely on results.
Which model is best for you will depend on your industry, your sales rep, and your budget. Most reps prefer an annual base salary plus commission, and will explain that it provides incentive but also the security needed to have confidence in their employer. Straight commission is often favorable to employers, but it also relinquishes some control, because the sales rep is more of a contractor than an employee.
Weigh the pros and cons of each scenario, and be prepared to discuss it during the interview process. Ask your candidate which he prefers, and why. It's okay to have a couple options in mind, and be flexible.
3 - Employee Training

How will you properly plan for and train a new sales rep right now? Here are some tips and strategies to consider:
Start Simple — Give your new sales rep the easy sales first for a confidence boost.
Check In — Make a point to check in every week. Review progress on Fridays, or start the week with a review and some support on Mondays.
Celebrate Successes — Especially if you're still doing some sales yourself, celebrate your wins together and review each case to learn from each others' challenges and strategies.
Generals — Your first hire of any kind is an opportunity to start working on general employee training. How does your business (and/or your industry if they're new to it) work? What is your vision and what are your goals? Don't overlook those things that every employee will one day need to know.
Continued Learning — Especially if your industry is a technical one, consider how you will continue educating your sales team. If you produce a regular newsletter, or host a blog, about your business, insist that he/she reads it. Alternatively, you might spend time every week reviewing industry news, or copy links to articles you've been reading into a weekly email.
By the time you're ready to hire, business is probably picking up speed and you're hoping to do less work, not more. But just hiring someone and leaving her to figure out the lay of the land on her own is a recipe for disaster. Plan on thorough training at the beginning to make growth easier on everyone down the road.
4 - Sales Managing
Many sales teams have a manager whose job it is to continually manage and coach their reps. That will fall to you too.
HR Data shows that more than 50% of first sales hires are gone before the end of the first year. Sales hires leave for a wide variety of reasons, only some of which have to do with a sales management deficit. - Joe Zente
The developing salesperson will need more managing and encouragement. The rockstar salesperson can sometimes be a bit of a — well, rockstar — which makes him difficult to manage.
If you're a natural leader with reserves of charisma and a thick skin, then your sales rep's personality won't be as much of a concern. If you're naturally quiet and more reserved, keep that in mind during interviews and try to hire someone less likely to walk all over you. Not all salespeople are loud and pushy.
5 - Consider Benefits and Other Perks to Entice Top Sales Reps
Many companies offer bonuses on top of regular commissions and salary increases as a way to reward and recognize their top-performing sales reps. Consider offering a registered retirement savings plan (RRSP) matching, annual 'President's Club' trips, or company profit sharing to encourage success.
And if your budget isn't ready for company retreats just yet, include them in your financial forecasts, assign a target deadline for when those perks might kick in, and talk about them with confidence. A sales rep — especially an experienced one — applying for a position as the first rep with a growing startup isn't really expecting stock options right away. What they are looking for is a small business owner with vision, confidence, and the intent to share his success with the team who helps make it happen.
You Will Only Ever Have One First Sales Rep, Make the Right Choice
If you're prepared, and you stay objective during the entire process, you're sure to find the best fit for your brand.
Consider your existing client base when you draft these requirements. A sales rep who is good at cold calling might seem like a great asset, but where are your customers actually coming from?


Add this to the job requirements, but keep it to yourself. Let your ideal candidate talk you into his favorite compensation model, but decide (before you interview) how far you're willing to go for a mediocre-but-trainable candidate.
Hiring your first sales rep is a big step, and an exciting transition. While there's no magic formula for building an effective sales effort, a thoughtful strategy that combines recruitment, training, and continued management will give you a huge head-start.